Shutdowns (Turnarounds, Outages) seem to be a big topic in my life lately. We as a maintenance and reliability community are starting to realize that these necessary events are an opportunity for returning value to the organization. It makes me wonder if there are other examples of these types of activities out there that we can learn from.
Shutdowns and Pit Stops
As I look at video footage of racing teams performing pit stops, I am reminded of the similarities to shutdowns:
A dedicated team of people focused on a common purpose
Roles and responsibilities clearly understood – no confusion
All of the tools, materials, and equipment in top condition and readily available
Measures of success clearly understood and readily visible
Time, Safety, and Accuracy are all that's important – it is all we focus on
Ok, I probably just painted a very rosy picture of your shutdown organization, but not of a successful pit crew. Pit crews understand that the entire race can be won or lost in the pit. If just one member of the team jumps over that wall without their wrench, the race is over for them.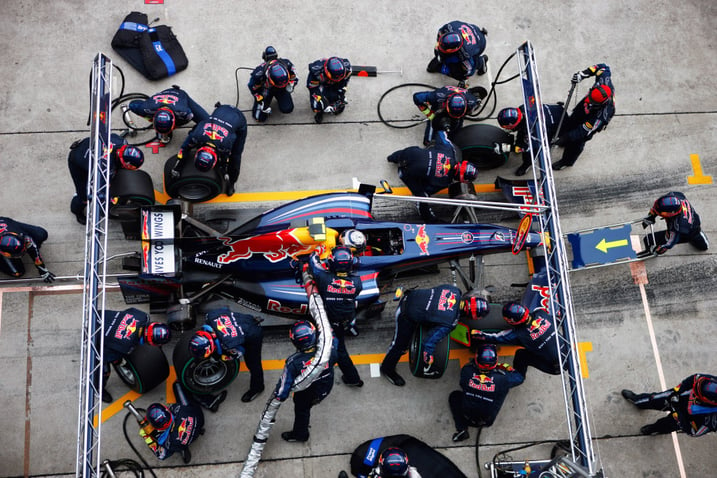 They practice and communicate, and practice and communicate again endlessly before the race because they understand that once the race starts, there is no more time for talking. It is time for action.
Check out this video of the team above in action:
http://www.youtube.com/watch?v=lfAIvXzRXPc
This is why successful shutdown teams follow a carefully designed shutdown process. Success is not a summation of good ideas thought up at any given moment. It is calculated, it is designed into the process, it is a habit for these organizations. They don't compromise on the process, because they know it is their only opportunity for success.
Shutdowns and SMED
As I watch pit stops, I am also reminded of the concepts of Single Minute Exchange of Die (SMED) leveraged by the Toyota production system to reduce changeover time. My understanding of the situation was that, in the beginning days, the time required to change over from production of one model of car to another on the stamping machine that made fenders (containing the dies mentioned in the name of the method) was measured in days. With much practice and careful application of the SMED process, Toyota was able to reduce this time from days to minutes - in fact, single minutes.
Interesting note is that I met an employee of Toyota from Japan in an airport one time, and he explained to me that the translation was off a bit. The goal of "Single Minute" was never the literal 60 seconds or less, but rather "single digit" time. You see, the number 10 has two digits but 9, 8, and 7 all have a single digit. Impressive all the same.

So as I look at these rules of SMED, and I believe that they apply to pit stops, I must also believe that they apply to shutdowns. Let's check the logic.
The Rules of SMED:
Rule #1: Setups begin and end with the 5Ss.
Rule #2: Change internal into external, then improve the remaining internal.
Rule #3: Bolts are our enemies.
Rule #4: If you have to use your hands, make sure your feet stay put.
Rule #5: Do not rely on special fine-tuning skills.
Rule #6: Standards are standard; they are not flexible.
Rule #7: Standardize all setup operations.
Source: JIT Implementation Manual, Hiroyuki Hirano © 1990 Productivity Press.
Do these rules apply to shutdowns?
| | |
| --- | --- |
| Rule #1 | More organized workplace = more efficient shutdown execution. |
| Rule #2 | The more we do before the shutdown begins (external), the less we have to do during the shutdown (internal). |
| Rule #3 | Ok…I'm not so sure about this one. |
| Rule #4 | Kitting and staging of parts and materials in the work area reduces travel time during shutdowns. |
| Rule #5 | If careful measurements must be done, make a template or jig to reduce errors under pressure. |
| Rule #6 | We have spent x weeks preparing for this shutdown…no one has the right to walk in cold and rewrite the plan. Respect the shutdown process. |
| Rule #7 | Strive to do more…learn from each shutdown and improve on the next one. |
At least in my mind, the jury is in. I believe that the methods employed by successful shutdown organizations, pit crews, and Toyota during equipment changeovers are all clearly related in some way.
Now What?
If we can accept the fact that these methods are related, then let's leverage them in our organization. Let's look at our shutdown plans and find opportunities to apply the rules of SMED, just as a pit crew would do if they were in charge.
We can look for opportunities to apply these methods on a micro level (individual job or task) or on a macro level (across the entire shutdown or multiple shutdowns). Remember, the race is long. Even a small improvement on this shutdown, followed by another small improvement the next time is important.
Focus on the power of cumulative improvement and continuous effort. I don't believe that pit crews ever rest, or are ever satisfied. I believe that the most successful teams are continually restless, always seeking that little bit extra, even when they are on top.
Good Luck and Mahalo!