When I think back on the shutdowns that I participated early on in my career, I wonder sometimes if we were really trying to excel at our performance, or if we were merely trying to survive?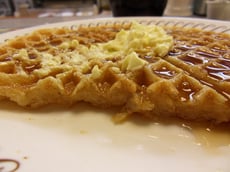 Some of my fondest memories in my professional life are thinking back to those 2:00 AM stops at the Waffle House with my brothers in arms, having only just left some late night critical step in the shutdown, all of us raccoon eyed and exhausted, choking down some quick food and terrible coffee only to return to work just a few hours later. But did we win? I swear I couldn't have told you back then…we were just trying to survive and make it to the end. Our measure of success was that one day would start making money again…whenever and however that happened.
Today I find myself living in a world of ever increasing complexity. These days, if I ask for a method to measure the success of a shutdown, it will likely be presented some 15-page spreadsheet filled with complicated calculations based on a theoretical percentage of similar world-class performers in my industry vertical. Oh yes, lets throw in a pivot –table in there somewhere as well for good measure.
This brings us to my good friend Johan Snyman, a South African lost in Australia who has a special knack for making complicated things simple. Johan would tell me that the success of a shutdown can be easily measured with only three numbers:
0-95-10
Harm – Duration - Budget
You see a successful shutdown in Johan's world can easily be described:
| | | |
| --- | --- | --- |
| Harm | 0 | Do zero harm to our people and our environment |
| Duration | 95 | Performed within time constraints – full capacity off to full capacity on (95 hours)* |
| Budget | 10 | Performed within budget constraints (10 Million Dollars) |
* Note: Always measure shutdown duration in this manner - as if you are a shareholder. Money Off to Money On.
Creating a Culture of Effective Shutdowns
That's it, simple and to the point. One thing that these complicated spreadsheets fail to address is that if our people can not fully embrace and own the way we measure success, then they can not and will not strive to achieve it. Metrics are only as good as our ability to respond to them.
Here is what Johan understands that many others do not. If we stress what is important and talk about it often enough, our people will act accordingly. If we tell them enough times that we have a budget of 10 million dollars, and give them visibility on what we have spent to date, they will rise up to meet the challenge (when I say "they" I mean all of them...each and every one of them).
Fail to give them this visibility, and they will perform no differently than your children at home constantly adjusting the thermostat. You know the thermostat I am referring to. The one that is connected to the electric bill that you pay and they never see. Lets pause for a moment to let the breadwinners wipe the tears from their eyes.
If we keep our people in the dark, why would they perform any differently?
So what do we do with this New Found Knowledge?
How do you drive shutdown performance in your organization? Set a target and scream it from the rooftops. In this case, establish these metrics as early as possible in the shutdown preparation process, and open every meeting after that with a recitation of these goals.
When you are having discussions related to what we will do in the next shutdown, challenge the decisions in relation to these goals. How does this decision help us meet our objectives? If we do x, how will it affect our duration.
Quiz your people informally as you interact with them. Ask them to tell you how much time we have budgeted for the next shutdown and if they have any ideas on how to complete the shutdown under that time budget. If they look at you with that same stare that your children give you when you tell them to get their hands off the thermostat, well then we have some work to do.
Find a way to make these metrics the focal point of our visual management efforts for the shutdown. Post them at the top of every visual board. Put them at the top of every email related to the shutdown. Place them prominently in the title line of our Gantt chart that we post visually in the workplace…..please tell me we are posting our Gantt charts visually in the workplace.
If people do not know, they cannot perform. As we seek ways to improve, lets not forget the value that can be found in the simpler things. A metric delivered in a clear and concise way can change the performance of an entire organization. Try this out and let me know how it works.
Mahalo