The P-F Interval Made Simple
As explained by: Ricky Smith, CMRP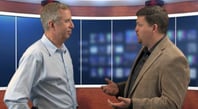 The Conversation Begins!
In the world of Maintenance and Reliability one may read information which sometimes becomes a little confusing. I wanted to provide a simple understanding of the P-F Curve and how it works in a proactive maintenance process.
(This is my story and would appreciate your comments at the end of this conversation. We must share ideas and provide feedback because it helps others learn. Share your knowledge and experience.)
First, we need to have alignment in a few simple definitions.
"A potential failure is an identifiable physical condition which indicates a functional failure is imminent"
"A functional failure is the inability of an item (or the equipment containing it) to meet a specified performance standard"
A Potential Failure is when a defect or abnormality is detected in a system and if not corrected will become a Total Functional Failure.
A defect or abnormality is typically a part or component, such as a bearing, and is failing. The defect is detected through a Predictive Technology. If this defect is not corrected, well you know the rest.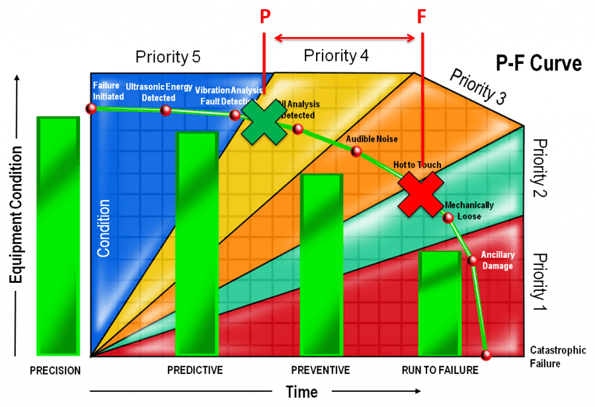 P – Potential Failure F – Total Functional
Predictive or Condition Based Technologies are typically used to identify a Potential Failure.
The process typically used to correct a Potential Failure is Preventive Maintenance – "Restoration".
By understanding and applying the P-F Curve concept one would have time to plan and schedule work minimizing interruption to production. The example below illustrates a defect was identified in Priority 5 thus triggering the planning process, scheduling, and finally work execution to specification without getting close to failing.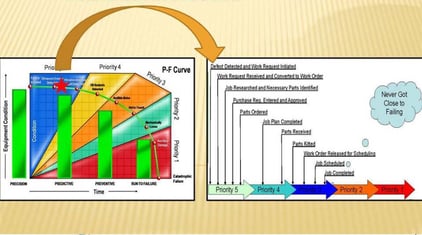 Work should (I know this cannot always happen) be scheduled during production/operation window of opportunity. The example below shows a production cycle where production has a cleaning cycle every 14 days thus allowing maintenance an opportunity to correct a defect during this time period with interrupting production.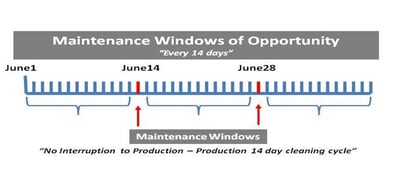 The key points are early detection of a defect early, have time to plan effectively, schedule without interruption to production, and execute work to specification.
The output of this process is optimized equipment reliability at optimal cost.
What are your thoughts? Could apply this concept? Please comment.