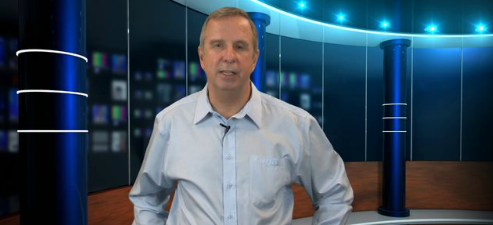 "Leave a Legacy"
Respect and Humility are attributes the Best Maintenance and Reliability Managers in the world all have in common. This has been my observation of hundreds of maintenance and reliability organizations around the world. I am not saying these maintenance or reliability organizations are the best in the world. All I can say is these managers have developed an environment which allows everyone to feel safe, feel part of something tangible, and feel their opinion or voice is appreciated. The managers who demonstrate Respect and Humility to all I consider to be great leaders which people will follow anywhere.
Based on my observations success cannot be achieved without Respecting all people and being Humble at "all times" no matter the situation or how hard things seem to be. Some places I visit my hair stands up when I walk into the Maintenance Shop and I know this is not the environment which enables success. The only companies I have seen progress to be the best in maintenance and reliability are ones where Respect and Humility are very apparent in everyday life at work and off work.
So how does Respect and Humility become embedded into your workforce? It begins with leadership demonstrating they can be respectful and humble to everyone; mechanics, electricians, supervisors, production operators, production management, plant management, janitors, etc.. I know asking you to change sounds easy however it is very difficult. I know change is difficult first hand. I use this saying.
"If change were easy everyone would be doing it"
One thing for a fact; if you want your organization to be the best it can be then change is a must and it is all up to you to make it happen no matter what level in an organization you are. Being Respectful and Humble is contagious.
What is the first step one should take? Begin moving in the right direction using a simple method I like to use;
1st: Post a sign on the back of your door or on the wall in your office which says the following: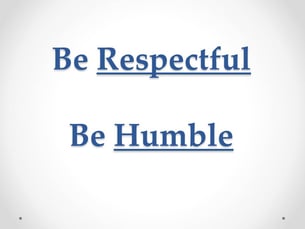 2nd: Apply what you read on the sign at all times. Be aware of your behavior.

Sometimes you may make a mistake and not be Respectful or Humble and that is ok. When this occurs it is time to apologize to the person you either disrespected or did not demonstrate humility and tell them you are sorry whether in private or in a crowd.
Everyone may look at you at first as if you have a contagious disease or something however as change occurs, life will seem to almost slow down, become calm, less stressful, and people who have never spoken to you begins engaging you. It is almost as if a true calmness is in the air in the maintenance shop, in the plant, mine, or on a platform in the Gulf of Mexico.
OK, I admit that I am not a touchy, feely kind of person however I am going through this transformation and it is humbling. My relationship with everyone from my spouse, children to fellow employees is getting better. I feel great and you will as well.
How long will this transformation take? It all depends on your commitment. I can promise you one thing, without becoming respectful and humble to others you will never achieve excellence in Maintenance or Reliability and you will not enjoy life to its fullest.
Some people have reached a high level of maintainability and reliability without these traits however they find it is not sustainable.
Being Humble and Respectful is not about becoming the best at what you do, it is also about becoming a better leader and person. As a result of this change your life will be less stressful and you will feel great. Trust me I know.
Make Respect and Humility your watchword and it will change your life (along with the people around you)Â forever.
If you struggle in this area please contact me at rsmith@gpallied.com and I will help in this area. Understand no one is perfect. I have to work on this everyday of my life.
Respectfully,
Ricky Smith
Please comment. I would sincerely like to hear what you have to say about this topic. We can all learn from each other.