by Ron Thomas
(Excerpt taken from Chapter 5.3, Rules of Thumb for Maintenance and Reliability Engineers)
Performance measurement is a fundamental principle of management. The measurement of performance is important because it identifies current performance gaps between current and desired performance and provides indication of progress towards closing the gaps. Carefully selected key performance indicators identify precisely where to take action to improve performance.
The Asset Reliability Process represents the collection of 'all' tasks required to support the maintenance function. The process is a supply chain. If a step in the process is skipped, or performed at a substandard level, the process creates defects known as failures. The output of a healthy reliability process is optimal asset reliability at optimal cost.
Asset Reliability Process measures are leading indicators. They monitor if the tasks are being performed that will "lead to results". For example a leading process indicator would monitor if the planning function was taking place. If people are doing all the right things then the results will follow. The leading 'process' indicators are more immediate than results measures.
Result measures monitor the products of the Asset Reliability Process. Result measures include maintenance cost (as a contributor to total operating cost), asset downtime due to planned and unplanned maintenance (as a contributor to availability) and number of failures on assets (the measure of reliability: this can then be translated into mean time between failures). Results measures lag. Failure is a good example. Typically the same piece of equipment doesn't fail day after day. Take a pump for example. Say the pump fails on average once every 8 months. If we improve its reliability by 50% it will now fail every 12 months. You have to wait at least 12 months to see the improvement.
Key performance indicators for the maintenance function need to include both leading (maintenance process) measures and lagging (result) measures. This paper focuses on identifying both leading and lagging measures of maintenance performance. Collectively, these measurements are the key performance indicators for the maintenance function.
The maintenance process is made up of elements. All elements are required to complete the supply chain. Key performance indicators of the maintenance process are process assurance measures. They answer the question "how do I know that this maintenance process element is being performed well?" The day-to-day execution of maintenance is addressed through the seven elements of the Reliability Process; Business Focus, Work Identification, Work Planning, Work Scheduling, Work Execution, FRACAS (Failure Reporting, Analysis, and Corrective Action). Key performance indicators for each element are recommended, if not required.
It should be noted that variations of these metrics may be defined or additional performance metrics may be used. The metrics presented here provide a clear indication if the requirements of each element are being satisfied and, if not, what action should be taken to correct the lack of maintenance process adherence.
Below is a listing of a few KPIs you may want to consider.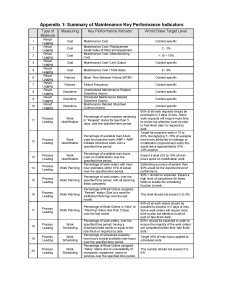 For a download of this chart go to: https://www.box.com/s/zro5vvylfgkvxhevtqe5
I would appreciate your comments. Please post them below.