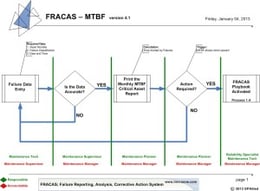 Failure Reporting Process Map for MTBF - Just my thoughts
How good is your organization at identifying failures? Of course you see failures when they occur, but can you identify when recurring failures are creating serious equipment reliability issues? Most companies begin applying RCA or RCFA to "high value failures". While this is not wrong, I prefer to either not see the failure in the first place, or at the least, to reduce the failures to a controllable level.
Here are a few items I believe a Failure Elimination program should have the ability to accomplish at the minimum.
Identify future failures
Identify negative and positive reliability trends at the part/component level
Validate new work processes
Validate equipment modifications
Validate maintenance procedure changes
Validate a new or current safety program
Validate a new PM/PdM program
What have you seen work and not work? Please share your ideas on this Blog (see comment section below) and let's help each other make a serious difference in 2013.
Thank you,
Ricky Smith CMRP CMRT