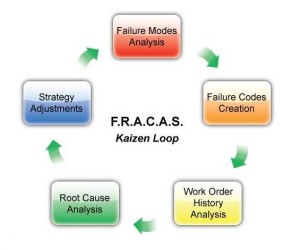 You've gotten buy-in from the boss by showing him how much money the organization can make from a good Failure Reporting Plan (FRACAS). He said, "Great idea! Now go make it happen." How many new ideas have you seen come and go in your organization? I have seen many through my career and I am sure you have as well. Failure Reporting (FRACAS) is something that must be sustainable because it is the continuous improvement process for your Maintenance Strategies for each piece of equipment. In this chapter from FRACAS, Failure Reporting Made Simple book, we are going to offer you a phased approach to success, one step at a time.
FRACAS Step 1 – Determine your end goal.

Know where you are going.

FRACAS Step 2 – Create your data collection plan.

What measures will be used?
What data must be collected to create the measures?
How will the data be collected?
How will the data be analyzed?

FRACAS Step 3 – Determine organizational roles, goals, and responsibilities (RACI).

Who collects the data?
Who analyzes the data?
Who takes what action based on analysis results?

FRACAS Step 4 – Create the FRACAS Policies and Procedures Manual.

Create a manual that clearly delineates the items determined in Steps 1, 2, and 3.

FRACAS Step 5 – Develop and execute the FRACAS Training Plan. Create a Training Plan based on the organizational roles, goals, and responsibilities determined in Step 3
FRACAS Step 6 – Implement the FRACAS.

Hold required informational meetings.
Begin data collection on highest priority systems.
Analyze data and report results.
Create corrective actions based on results.

FRACAS Step 7 – Monitor and adjust.

Monitor data quality and results.
Monitor corrective actions.
Adjust data collection plan and corrective action implementation plan based on results of monitoring.
If you would like a full copy of the "Seven Steps to a Working Failure Reporting System - FRACAS" chapter from Bill Keeter and my book, "FRACAS, Failure Reporting , Analysis, Corrective Action System", send me an email at rsmith@gpallied.com.
If you have a successful failure reporting system in place please share your process or thoughts with others on this blog. Learning from each other is key to all of our success.
Please comment below.