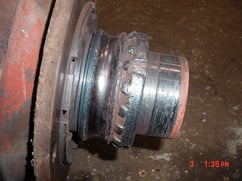 Look at this Picture Closely
I am sure many of you are having problems with your Lubrication Program however it may not be apparent to you. Take a tour of your facility and look for these signs of a problem.
- Open Oil Containers which are used to fill gearboxes, hydraulic systems, etc
- Grease around bearing seals
- Failed Bearings in a steel dumpster
- Hydraulic Problems on a daily basis
- Open bearings in a Maintenance Storeroom
- Lubrication tech are the least trained in the maintenance department
These are just a few issues you will see when your track. Post your comments or "best lubrications practices" so we can all learn from each other. We all need to share ideas and practices which you find to be effective. This is not about competitive advantage but more about working together to help each other.
If you would like a copy of my Tool Box Talks on Lubrication related topics go to the "Help" section on the MaintenancePhoenix website.
Please post what things you have seen which are evidence of a Serious Lubrication Problem and share any best practices in lubrication with everyone.