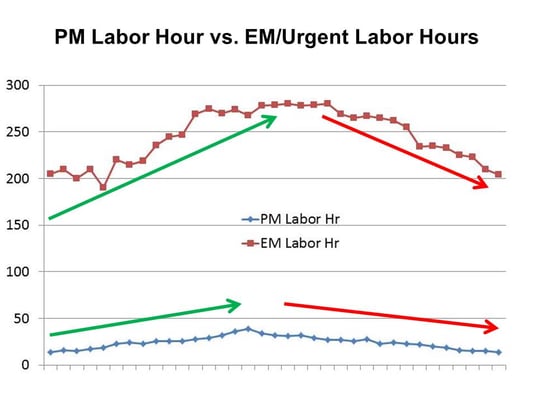 What does this graph tell you? Does this organization have an effective PM Program? NO
To be honest with you I see this type of data all the time and the owners of this data think there PM program is working. This graph just came from an unnamed plant. This graph tells me there PM Program has a problem, why, because if Emergency Labor Hours trend up when PM Labor Hours trend up one may have a problem. Do you agree?
This is the trend one must see, EM Labor Hours going down as we execute Effective Preventive Maintenance
Unless you have been living on another planet for the last fifty years, you already know that the case for doing Preventive Maintenance (PM) is watertight if focused on the correct failure modes.
Done right, PM will preserve, protect, and extend the life of your equipment – and reduce overall maintenance cost.
So here's the question: Why are most maintenance and reliability professionals so unhappy with their PM programs?
Surprisingly enough, according to our research, we have found that just 22% of maintenance managers are satisfied with their current programs. Their two biggest complaints are listed below
PM Consumes Too Many Resources
Many maintenance managers believe their PM program is simply bigger than it should be. They find it difficult to execute their PM program and their other work at the same time. Also, they feel like they do not have enough manpower to manage all of their PMs along with other important maintenance tasks.
Lack of Results
Despite all of the time and money being spent on PM, there are still way too many unexpected equipment failures.
Case in point: During a chemical plant tour, the frustrated maintenance manager said, "We just PM'd that machine, and it failed a short time later anyway. So why didn't we catch the problem with the PM?"
Why indeed.
In a nutshell, the problem with PM is that it takes too much time and produces too little results.
I would appreciate your comment on this topic. What do are your experiencing? Tell me about it.
If you would like a copy of our report on "Why PM Does Not Work" just click on the highlighted link in this line.
Have a great day and enjoy the document, post a comment about the document in the blog comment section below.
I would love to hear your comments on this great report.