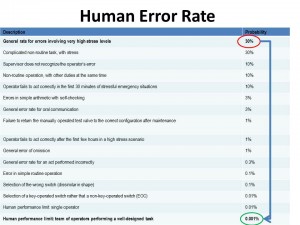 Have you ever thought about the Human Error Rate and the largest cause of these errors? It is us, Humans!
In the field of maintenance the traditional approach has been to rely upon the intuitive knowledge and skill of the crafts-persons who conduct it. There is a great deal of pride of workmanship and, in all too many organizations, a great deal of psychic income in addition to significant overtime pay for successful emergency repairs to return equipment to operation after unplanned shutdowns.
There is a mystique that accompanies all of this that many skilled crafts-person would like management to believe firmly. That is that there are too many variables in maintenance, making compliance with written procedures impossible and impractical; that the "way we've always done it" is the best and only way to conduct maintenance.
This idea spills over into preventive maintenance, also. Craftspersons believe that their own intuitive knowledge is preferable to a written procedure and/or a thoroughly defined checklist. Aside from these problems, most organizations have allocated no resources to creation and on-going support of procedures and checklists. Accordingly these organization are beating on the wrong way of conducting maintenance in order to assure reliability.
This results in at least a lost opportunity for increased profits from existing assets and at worst a fatal management omission. Management is gambling with profits and losing big time with the approach that emphasizes "pride" of workmanship over an approach that has been proven to work.
By Jack Nikolas - Post by Ricky Smith CMRP
[gravityform id="1" name="Ask"]
Check out the full article at: Procedure Based Maintenance Article